How the Reds became baseball's most surprising team a week in – CBSSports.com
You might be tempted to say baseball's biggest first-week team surprise was the Orioles — the majors' last remaining undefeated squad. You'd be wrong, however. That distinction instead belongs to the Reds, who just took two of three from the Pirates to improve to 5-1.
Sure, the O's had a messy offseason and were a trendy pick to finish last in the American League East. But the Reds? They were a logical pick to finish with the majors' worst record. This is the same Cincinnati team that sent an entire rotation to the disabled list late in spring training — including Homer Bailey and Anthony DeSclafani, last season's leader in innings pitched.
The Reds' strong start is confusing for other reasons, too. Like, say, how their best players aren't playing all that well: Devin Mesoraco has a -6 OPS+ (yes, negative); Joey Votto has a .269 on-base percentage; and Billy Hamilton is hitting .143. There's even this oddball statistic: the Reds haven't had a pitcher record a save, despite winning multiple one-run games.
We're not going to waste time by telling you why this whole thing is a fluke, or predicting that the Reds will enter May with a losing record (though both of those statements will likely prove to be true). What we will do, though, is address the obvious question on everyone's mind: just how did this team win five of its first six games?
The answer starts with the pitching staff, which boasts the NL's third-best ERA. Raisel Iglesias, the closest thing to an ace on the roster, has allowed three runs in two starts; Alfredo Simon and Brandon Finnegan each yielded two runs in their first starts; and Tim Melville — a proverbial ghost of prospect lists' past — somehow exited his debut with a 218 ERA+ — he allowed nine baserunners in four innings. Robert Stephenson is the only Reds starter to allow more than three runs in a game, and he had the good fortune of doing it on the day the Reds scored 10 themselves.
The Reds' remade bullpen deserves credit as well. Jumbo Diaz, Caleb Cotham, Blake Wood, Dan Straily, and Tony Cingrani — hardly the Yankees' end-game trio of doom — have combined for 16 scoreless innings. Why haven't the Reds notched a save then? Because their two one-run victories were of the walk-off variety.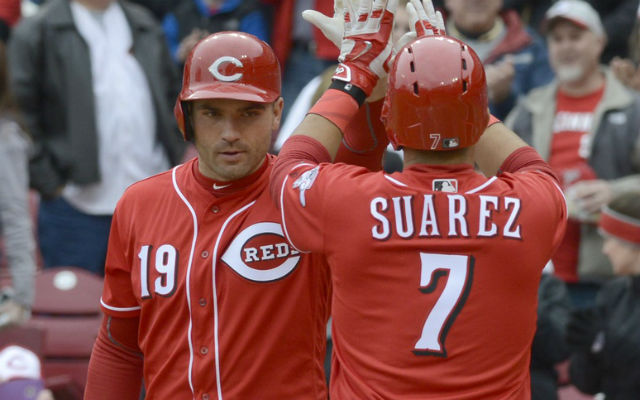 Comparatively, Cincinnati's lineup hasn't been as impressive. While they rank fourth in the NL in OPS, they're just eighth in runs scored. Brandon Phillips and Jay Bruce — yes, Jay Bruce — have been two of the big contributors, compiling an average north of .380 and 12 runs batted in. The Reds' biggest bat has belonged to 5-foot-11 third baseman Eugenio Suarez, who homered four times in a week by feasting on so-so fastballs down in the zone. Suarez now has 17 home runs in about 400 plate appearances with the Reds; he had 41 in more than 2,400 in the minors. Go figure, huh?
So how have the Reds won five of their first six games? Some timely hitting, some bend-but-don't-break pitching, and — most encouragingly of all — the continued emergence of their starting third baseman. It's not a recipe likely to sustain, but Reds fans should nonetheless enjoy their moments in the competitive sun.