One of baseball's best teams should completely sit out the trade … – CBSSports.com
The non-waiver trade deadline is of course in the offing, which means the baseball news cycle is almost wholly devoted to teams looking to make deals by Aug. 1. For a few minutes, though, let's devote some bandwidth to a team — a contending team — who would be perfectly justified in doing nothing leading up to said deadline. That team is the
Houston Astros
.
At this writing, the Astros are four games behind the
Texas Rangers
in the AL West and 1.5 games out of wild-card position. Lest that not sound impressive, bear in mind that the Astros, thanks to a terrible start, were a season-worst 11 games under .500 as recently as May 22 and a season-worst 11 games out of first place as recently as June 20.
Since putting up a 7-17 mark in April, though, the Astros have won at an impressive .615 clip. Presently the SportsLine Projection System gives them a 60.1 percent of making the playoffs and even favors them to edge out the Rangers for the division title.
So that's where the Astros and GM Jeff Luhnow stand as we head into the final two months of the regular season, which brings us back to the pressing matter of the Aug. 1 non-waiver deadline.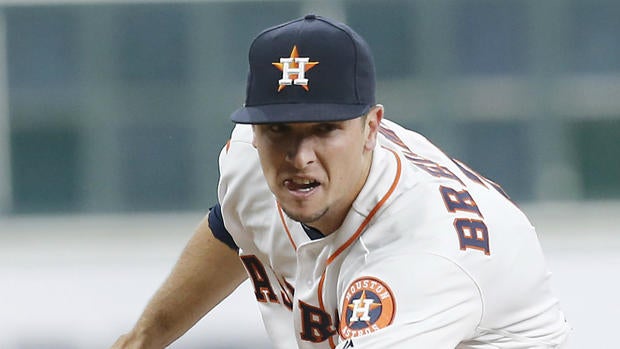 On offense, the Astros are in good shape moving forward. They have the best middle-infield duo in all of baseball.
George Springer
is a complete threat in right, and at third base
Luis Valbuena
is quietly having a strong season. First base would seem to be a concern, but hard-hitting prospect
A.J. Reed
will make his way back to
Houston Cougars
soon enough and projects well moving forward. So does top prospect
Alex Bregman
, who can see duty at multiple positions.
Recent Cuban signee Yuliesky Gurriel will also provide a stretch-drive boost. While he and Bregman are infielders by trade, each can provide depth at the outfield corners. Let's also not forget about
Tyler White
, who was recently recalled after punishing the ball in Triple-A. Production from center field has been badly lacking thus far, but both
Carlos Gomez
and
Colby Rasmus
project to improve in the weeks to come. The market in center is also light, now that
Melvin Upton
is spoken for. So on offense they have a highly productive core, and they have depth.
As for the pitching staff, it's been a mixed bag to date. However, when you make trades (or signings) with the near-term future in mind, it's not really about what's happened up until then. It's about how the pieces you have in place and are looking to acquire project moving forward.
On that point, the Astros rank a solid-enough sixth in the AL in rotation ERA. However, when it comes to FIP (Fielding Independent Pitching), which is scaled to look like ERA but reflects just those outcomes that have nothing to do with fielding — i.e., strikeouts, walks, and home runs allowed — the Astros look much better. In fact, right now only the
Cleveland Indians
among AL teams best the Astros' current rotation FIP. Because FIP is generally a better measure of raw pitching skill than ERA is, it does a better job of predicting future ERA than ERA itself does.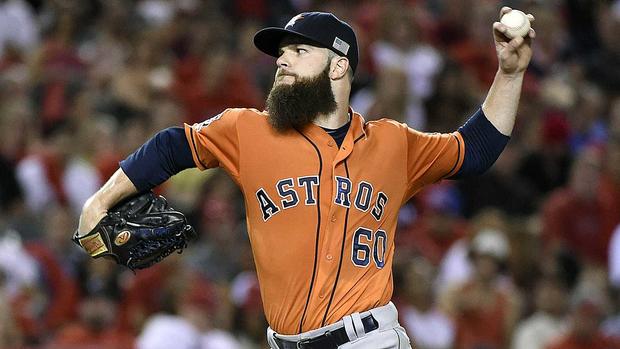 That brings us back to that point about the importance of how players project moving forward. There's strong reason to believe that the already solid Astros rotation will be better the rest of the way. Specifically, the ZiPS rest-of-season projections available at FanGraphs expect better results from Astros starters, on balance. Let's have a look …
So we have got one slight negative regression (McCullers) and one substantial negative regression (Fister) expected. On the positive side, we've got slight improvement expected for Fiers, and massive steps forward projected for Keuchel, the reigning AL Cy Young winner, and McHugh. Throw the likely innings distribution into the mix, and on balance the Houston rotation looks poised to improve significantly the rest of the way. For depth, you've got
Scott Feldman
and
Chris Devenski
already on the roster. Those two have combined to make the nine starts this season that didn't go to rotation regulars above.
Also, consider what's left on the market. Is 36-year-old
Rich Hill
and his ongoing blister problems certain to be an upgrade over those reasonable projections above? If so, is he worth the generally overheated returns that starting pitchers fetch on the in-season trade market? Probably not.
Sure, if you can land a front-line arm who's under team control for years to come like
Chris Sale
or (to a lesser extent)
Julio Teheran
, then you do it pretty much regardless of your roster situation. However, those guys aren't likely to be traded, with very good reason. And if they are legitimately available in trade, then they'll exact a steep price in young talent. On that latter point, it's worth bearing in mind that the Astros have thinned out their still-deeply-impressive reserves of young talent thanks to promotions and that trade for
Ken Giles
.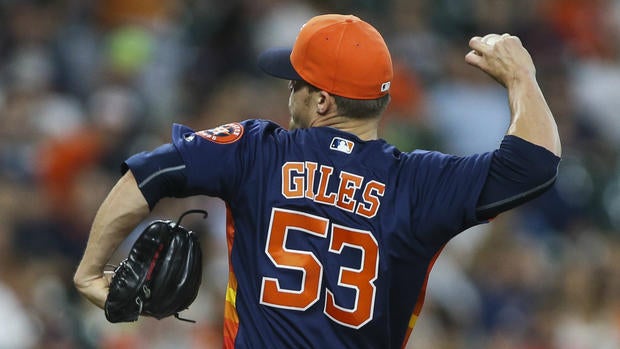 Ah, yes, Giles and the bullpen. Houston's fine on this front. At present, the Astro relief corps ranks second in the AL in bullpen ERA and first by a wide margin in FIP. Note, again, FIP's utility when it comes to forecasting near-term outlooks. As well, ZiPS expects much better numbers out of Giles and lefty-of-first-resort
Tony Sipp
the rest of the way. Barring injury, they're fine on this front, and they've got multiple potentially useful bullpen arms at the Triple-A level right now.
As a more general point, there's only so much impact a deadline acquisition can make with just eight weeks of regular season to go. There are, of course, contending teams with glaring shortcomings that need to be addressed (see the
Baltimore Orioles
' rotation, for instance), but this doesn't describe the 2016 Astros.
This isn't to say Houston has the best roster in baseball — they clearly don't. However, the shallow holes on that roster probably won't be filled much better by what's out there, assuming the rumors are a reasonably accurate guide. At the deadline, we too often regard inactivity as an ipso-facto mistake. Often, it's a recognition that notional upgrades may not be upgrades at all and that the roster is already in fighting shape. That, it says here, is the case with the 2016 Houston Astros.