The New York Yankees and Chicago Cubs played an 18-inning epic at Wrigley Field on May 7 that lasted six hours and five minutes. Five nights later the Cincinnati Reds and San Francisco Giants grinded through 17 innings in five hours, 28 minutes.
Child's play. Go at it for 72 hours and then get back to us.
Yes, 72 hours. That's the length of the baseball marathon planned for Memorial Day weekend in St. Louis.
A group of 58 amateur baseball players will attempt to play a 72-hour game — that's three solid days — to set a new Guinness World Record for the longest marathon baseball game ever played. And they're pretty familiar with the existing record. The same group set it two years ago.
The point? Raising money for The Mission Continues, a national nonprofit organization supporting military veterans.
The players — some of whom are military veterans — range in age from 18 to 62. They're used to endeavors such as this, having made eight previous attempts at the record, including the successful one in 2015 that produced 70 hours, 9 minutes and 24 seconds of uninterrupted baseball to establish the current world record.
A 70-hour game leads to quite a box score. The final score in 2015 was 267-242.
In 2012, in a mere 60 hours of baseball that featured afternoon temperatures above 100, the same group played 169 innings and combined for 451 runs. The leading hitter went 31 for 34. In 2009, the teams combined for 292 singles and 72 doubles over three days.
This year's game will begin at 8 a.m. Friday, May 26, at GCS Ballpark in Sauget, Ill., and is expected to finish 72 hours later, on Monday, May 29. The two teams of players take turns playing every three hours. For three long days.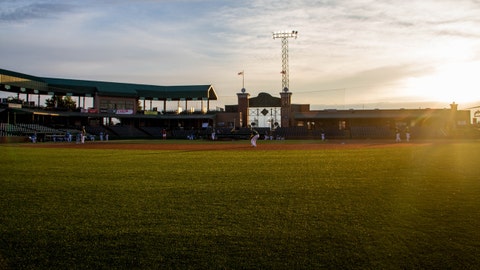 "We compete because we love the game, but that only explains hours one and two," organizer Chuck Williams said. "What about the remaining 70 hours? At some point, in the middle of the night, no matter how overwhelming your love is for the game, you will look for one thing — all you want to see is the clubhouse door open and hopefully a trail of teammates will be on their way to the dugout to give you a much-needed break. …
"It all comes down to the fact that you play for each other.  We get up after a two-hour nap at 4 a.m. because our teammate needs us out there, and because for this brief moment our job is to do one thing — show up to a baseball game."
And to support a cause the players believe in.
"As I remind the players before each event, this is a charity event first and a baseball game second," Williams said. "… Considering who we are playing for, people far more deserving than ourselves, this isn't much to ask."
The St. Louis group has raised more than $1 million for charities. This year's beneficiary, The Mission Continues, empowers military veterans who are adjusting to life at home to find purpose through community impact. They tackle challenges across the country by leading volunteer work.
"The World Record Baseball Game is an exciting event for The Mission Continues as it's a unique way to engage our local community, and was brought to us by the players themselves," said Alexandra McClung, development associate for The Mission Continues. "Their passion and love for the game is what sold us on this idea, and we cannot wait to see these men and woman crush the world record."
Some rather remarkable things figure to happen along the way. In 2015, for instance, pitcher Mike Martin threw 70 innings. That's a crazy number of innings, but get this: He's a police officer who got shot in the line of duty. In his pitching shoulder.
Former major league All-Star Mark Buehrle will open the event by tossing the ceremonial first pitch. It's an appropriate role for the St. Louis-area native and pitching ironman, who threw more than 200 innings in 14 straight seasons with the White Sox, Marlins and Blue Jays.
But even Buehrle never had to pitch 70 innings in one weekend.
For more information, click HERE.