Another combat sports crossover star explains why Conor McGregor will find it tough to beat Floyd Mayweather – The Independent
We are just five days away from Conor McGregor vs Floyd Mayweather and if there's one man who knows about the uphill task the Irishman faces, it's Michael "Venom" Page.
The Bellator MMA welterweight recently announced that he will be make the crossover to boxing for his first professional bout later this year and he's currently hard in training with former British boxing heavyweight champion, David Haye.
Speaking exclusively to The Independent, Page explained the difficulties he's been having making the crossover to boxing and how it's been a shock to system in regards to his training.
"Changing to boxing is very difficult," Page admitted.
"Because I punch anyway, I have good technique, but we don't have as much specific work on our arms and our shoulders. The struggle for me is the endurance, the muscular endurance and being able to be able to do it for such a long period of time. In MMA, if my arms are a little tired, I can clinch, I can go for a takedown or use my kicks.
"In boxing, you can barely clinch anymore because the referees just break it up. If your arms are tired then your arms are tired, but you have to keep punching. This is where I think McGregor will have his main struggles."
Conor McGregor's most memorable quotes
1/15



McGregor on…

… staying humble.

Getty

2/15



McGregor on…

… how he chose to make an honest living.

Getty Images

3/15



McGregor on…

… why he doesn't watch Britain's Got Talent.

Getty Images

4/15



McGregor on…

… bums, and selflessly transforming their respective bum lives.

Getty Images

5/15



McGregor on…

… the exceptionally dangerous solid gold pocket watch industry. RIP to those intrepid horologists.

Getty Images

6/15



McGregor on…

… strangers.

Getty Images

7/15



McGregor on…

… his impressive ability to handle bad news in the wee small hours.

Getty Images

8/15



McGregor on…

… the most lucrative fight in the history of boxing.

Getty Images

9/15



McGregor on…

… the Brazilian people, and how to endear yourself to a foreign culture while traveling.

Getty Images

10/15



McGregor on…

… always staying pragmatic.

Getty Images

11/15



McGregor on…

… Ireland's travelling support.

Getty Images

12/15



McGregor on…

… inventing his own weight-class.

Getty Images

13/15



McGregor on…

… the Deep South.

Getty Images

14/15



McGregor on…

… his recently improved pay packages.

Getty Images

15/15



McGregor on…

… how he took down former featherweight champion Jose Aldo in just 13 seconds.

Getty Images
Suffice to say, Page thinks that McGregor will struggle against Mayweather on Saturday night. The Londoner believes that the Irishman could pose the undefeated 49-0 world champion problems early on, but the later the fight goes Page thinks it's advantage Mayweather.
"I think it will be a competitive early fight while he's fresh, but when it goes into the slightly later rounds, when his body just isn't used to that muscular endurance, I just can't see that he's had enough time to prepare for this," Page said. "At the start of the fight though, he's going to be very fresh and very awkward for someone like Mayweather. As I would be for any boxer.
"It's just later on [in the fight] when the strength of boxers shines through. I know for a fact that my shoulders will tire out and they still have the power in their arms because they've been training for this a lot longer then I have. This is different.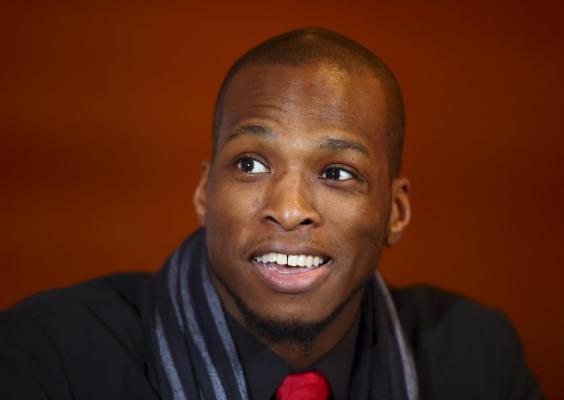 Page then gave his definitive prediction for the fight and he didn't need to think about it long. He doesn't believes there's much chance of an upset on Saturday and thinks it's just going to be a case of McGregor not been able to cope with Mayweather once the fight hits the midway point.
"I think that in the fifth or sixth round Mayweather will take it," Page said. I know Mayweather isn't known for his knockout ability right now, but the reason I think he can win via knockout is because I think something similar to Conor's first Diaz fight might go down.
"When he got caught in the right spot a few times, he had no exit strategy. You can't go for a takedown. I actually think that if his takedown was better against Diaz, he might have been able to recover and go on and win that fight, but in this fight on Saturday he has no out. There's no way to escape.
"You can't throw kicks or go for takedowns and I think this is where Mayweather's precision striking will just takeover."
Reuse content