One of the great things about being a fan of sport is the licence to rail against modernity. Complain about the intranet at work and no doubt, in time, you will be disciplined. Complain about sprinters pulling faces for the cameras on the start line and millions will be with you.
This antediluvian attitude ought to make the positive noises which greeted the day-night Test involving England and the West Indies all the more surprising. Rather than bemoan the creation of an entirely new meal break, coined 'trunch' by my colleague Andy Bull, the Edgbaston crowd were bang into it. Perhaps even a bit more than they were the cricket. The same went for people watching Arsenal's victory over Leicester at the Emirates Stadium to launch another Premier League season on the Friday before last.
Both of these innovations have their reasons. Cricket faces a continuing quest to stay relevant (ie get paying bums on seats) which has led the venerable Test version of the sport to ape as many tricks as it can from the gaudy upstart of T20. The football has a need to cater to that all important west coast US TV audience ("you're telling me I can watch Jamie Vardy sneer while eating lunch? Now that's what I'm talking about"). But despite the motivations, people still enjoyed themselves.
Personally, I enjoy watching sport at night. I cherish fondly the memories of the FA Cup quarter-final replay between Norwich City and Southampton in 1992 at which myself and a significant proportion of Carrow Road's Barclay end spent the entire evening winding up their goalkeeper, Tim Flowers. Same goes for the night we got stranded in Luton having celebrated too heavily a late goal from Chris Martin that kept us in the Championship.
For some reason I feel similarly nostalgic when I recall a baseball derby between the Tokyo Yakult Swallows and the Yomiuri Giants, a match dominated by the Curacaoan outfielder Wladimir Balentien, a man celebrated by his club with the most affectionate racist terminology imaginable.
I've also stayed up for baseball's World Series and the Super Bowl, on TV, without fully understanding the rules of either. My friends are worse, having shelled out on passes for live American sports that effectively double as an endorsement for sleep deprivation. Watching sport with the lights on (or off, bar the glow of the screen) is something special, I'm sure. The only real question is why.
There's one obvious reason that should be addressed up front and quickly. People – largely, but by no means exclusively, the people who attend an event in person – are inclined to watch night sports when pissed. This is likely to be a consequence of the cultural associations around sobriety, which suggest it's a good thing to aspire to in the daytime.
Related to this is another idea; a psychological association between watching sport and not being at work. Some sports, such as the Test format (or even county cricket), require you to use up a sizeable portion of your holiday allowance knowing full well the whole thing might be rained off. Even the majority of events, those staged at weekends, require that you choose sport over clearing a gutter or driving kids to tai chi.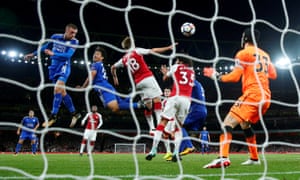 Night sport comes with none of those strictures. It gives you the ability to absolve yourself entirely of guilt. At night you can concentrate fully on the one thing that obsesses you; the sport and whether your full-back is going to do that thing that he always does where he dwells on the ball for just a second too long and gets robbed.
It is my contention, however, that the glamour and the seduction of sport under floodlights is magnified by something more primal. Something atavistic. The idea encapsulated by Puck in A Midsummer Night's Dream:
The time of night
That the graves, all gaping wide
Every one lets forth his sprite …
and we fairies …
Following darkness like a dream,
Now are frolic.
Or, if you prefer, there is the similar sentiment expressed in Katy Perry's Firework:
You just gotta ignite the light
And let it shine
Just own the night
Like the Fourth of July.
Which is to say we believe anything can happen at night. That's not to say that we think it will. Just that it can. We know deep down that the same full-back will do that thing that he does. He won't suddenly develop a ruthlessly efficient characteristic that will suggest he's been listening to you all along. But at night it's less easy to rule it out.
I also wonder whether voodoo might get a hold of athletes. When Andy Murray won his first grand slam title by beating Novak Djokovic at the US Open in 2012, it was the longest men's final in the history of that competition. One and a half million Britons stayed up till 1am to watch on television. In New York the match began at 4pm and ran for just under five hours.
Which means, by my calculation, that when the sun began to set at 7.12pm, Murray was in the midst of seeing a two-set lead overturned by Djokovic. The Serb was seemingly on another of his inexorable grinds towards a title. But with the floodlights on and the Arthur Ashe stadium a bowl of light radiating into the dark autumn sky, Murray did what no Briton had managed for 76 years. He found the will and the belief to break twice, and won the fifth set to claim a grand slam title.
I'm not insisting Murray's win was written in the stars, but I certainly have my suspicions.