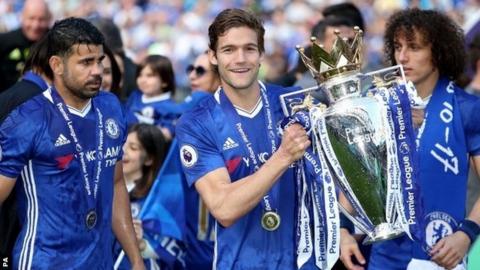 Chelsea have cancelled their Premier League victory parade, which was due to take place on Sunday, in the wake of the Manchester Arena attack.
The club say it would be "inappropriate" with the UK terror threat at its highest level after Monday's bombing killed 22 people.
Chelsea planned an open-top bus tour with the trophy and hoped to add the FA Cup in Saturday's final with Arsenal.
The Gunners have also said they will not stage a parade should they win.
A screening of the match at the club's Emirates Stadium has been cancelled, and fans will be given refunds.
Chelsea said players will make a donation to a fund supporting victims of the attack, and will also wear black armbands during the final at Wembley.
"Everyone associated with Chelsea Football Club offers our heartfelt condolences to those affected by Monday's terror attack in Manchester," said a club statement.
"Our thoughts go out to all the victims and their families and friends."
Arsenal chief executive Ivan Gazidis said the safety of supporters and staff was paramount and the club had been in close contact with the security services.
"After taking their advice we have reluctantly taken the decision to cancel the screening and potential parade," he said.
Spectators at all major events can expect to see more armed police and face longer security checks.
Sport pays tribute after attack
A minute's silence will be observed before the Europa League final between Manchester United and Ajax in Stockholm on Wednesday and both teams will wear black armbands.
The opening ceremony will also be considerably reduced as a mark of respect for the victims.
England and South Africa stood shoulder to shoulder for a minute's silence before the first match of the one-day cricket series at Headingley.
Both teams wore black armbands as they took the field in Leeds, with all 15 members of the England squad lining up on the pitch alongside the tourists and umpires for a sombrely observed silence.
Formula 1 is expected to observe a silence ahead of this weekend's Monaco Grand Prix.
F1's teams, the majority of which are based in Britain, have also agreed to have #Manchester on their cars.
Jenson Button – who is replacing Fernando Alonso on the grid for the race – said: "My thoughts are with everyone who's affected. The most heartbreaking thing is – every life is important – but it was mostly kids going to the concert."
What about other events?
Greater Manchester Police and the city council have given the go-ahead for athletics' Great CityGames to take place in Manchester on Friday evening.
A decision is expected on Wednesday on whether the Great Manchester Run, which features Europe's largest 10km run and a separate half-marathon, will be held on Sunday.
Police Scotland will be reviewing its security in the coming weeks, including Saturday's Scottish Cup final.
Premiership Rugby said there will be a minute's silence before Saturday's final between Exeter and Wasps at Twickenham.